Working with children and their parents is a form of love. We love what we do and are devoted to developing and supporting parents and their children. So, with February highlighting Heart Awareness and Valentine's Day, it is the perfect month for our team to come together and create our first blog to nurture the love that exists within your family.
Valentine's Day isn't only for love-struck teenagers passing out candy-grams, flowers, and teddy bears. Creatively displaying love is for all ages, whether it be your child, bestie, partner, or spouse, and it does not need to be observed only on Valentine's Day. Rather, carry it in your heart all year round, with your family, with your friends, with your community, and in your career. With that said, Valentine's Day fun (or 14 days of Valentine's fun), can be a creative, colorful avenue to promote happiness in your home during the cold, grey days between New Year's and Valentine's Day. We hope these ideas inspire you and your family to show each other love in fun ways.
(Day 2) Make Valentine Mailboxes
(Day 3) Origination of Valentine's Day
(Day 4) Watch Your Wedding Video or A Valentine's Day Movie or Cartoon
(Day 5) Surprise Valentine's Day Treats Any Day of the Week
(Day 8) Valentine's Day Juice Cubes
(Day 10) Valentine's Day Craft
(Day 11) Valentine's Day Dress Up & Dance Party
(Day 13) Random Act of Kindness
(Day 14) Heart Healthy Family Workout
Homemade Valentines
(Day 1)
Making valentines together can be a great way to open up conversation. Discuss the steps involved to create a Valentine's Day card and who you will send them to. Go to the post office together and pick out fun Valentine's Day stamps to put on the cards that you send to loved ones.
Baby Valentine: Place their handprint or footprint on a card or send out a current photo of them. This idea can be used for years honestly. One year our family created a photo card with our pet miniature pot belly pig and our dog snuggling that said, "Happy as a pig in love. Will you be my Valentine?"
Toddler Valentine: Make cards using blank pre-made cards or work with your toddler to fold paper into a card. They can use handprints, stickers, stamps (with a stamp pad), scribbles, drawings, color in a heart you draw, make dot art on the card, glue on different items such as a card of hearts from an old card deck. This is a great time to use what you have and be creative.
Elementary School Valentine: They will likely want to pick out their own at this age. Whether it be a store-bought Valentine of their favorite character or they want to design their own. This is the perfect time to sit down and work on the important skill of handwriting with your child. Children in kindergarten through second grade can practice their printing (see: https://www.lwtears.com/ for documents on the correct start/sequence of letters based on development).
Teen Valentine: Let's be honest, if they are doing anything with Valentine's Day at this point, it is in school a fundraiser or they are asking you for something specific
Spouse or partner Valentine: If you don't want to go out and buy a valentine, you can make one. You could even use one of your kids' valentines to be fun and reminisce about passing out valentines when you were younger. Use a picture of both of you, postcards from places you've traveled to together, or use wine corks from wine you both enjoyed. You can make it special and about the two of you.
Make Valentine Mailboxes
(Day 2)
Grab an old shoe box, an empty chocolate box, a school folder, a large jar, a cereal box or oatmeal container, or anything else you have available. Be creative and decorate away. When you are done with them store them away for next year or make new ones each year.
Origination of Valentine's Day
(Day 3)
Look up the origin of Valentine's Day and discuss together. Discuss with your family at dinner at their age level or play a trivia game about it.
https://www.history.com/topics/valentines-day/history-of-valentines-day-2
https://www.britannica.com/topic/Valentines-Day
https://www.theholidayspot.com/valentine/facts.htm
https://www.triviaquestionsnow.com/for/valentines-day-trivia
Watch Your Wedding Video or A Valentine's Day Movie or Cartoon
(Day 4)
A cute and quick Charlie Brown YouTube video is below; however, you can find Valentine's Day videos for your child's age and specific to their interests by simply searching Valentine's Day on your tv, internet engine, or at your local library.
Surprise Valentine's Day Treats Any Day of the Week
(Day 5)
Surprise your child with a Valentine's Day treat specific to their age. Some quick ideas:
Garden Veggie Chip Hearts
Valentine's Day Story
(Day 6)
It's always fun to cuddle up together and read a good book! Some valentine favorites are:
Baby/Toddler: These have rhythm and are short and sweet.
Older Children: The older your child gets and as their attention span increases, introduce children's books with more content and longer stories.
Adults and Teens: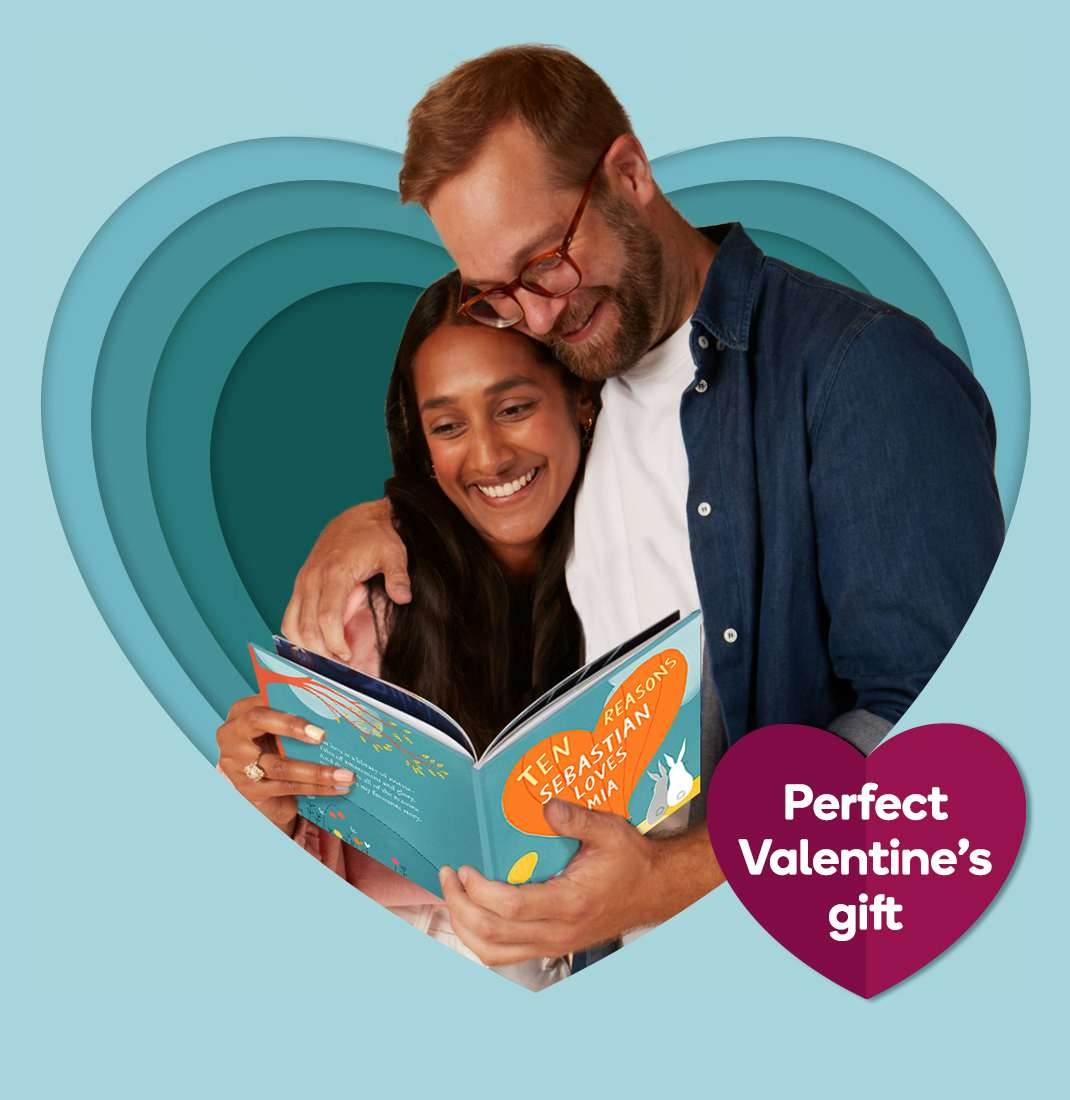 Create a book for with or for your teen
Create a book for them or together on a site such as: https://www.wonderbly.com/landing-pages/personalized-products/product/ten-reasons-book-v3?utm_source=google&utm_medium=organic&utm_campaign=shopping%20feed&utm_content=surface_across_google
Create-A-Treat
(Day 7)
Have fun making Valentine's treats together. Our favorite treat was Valentine's S'mores.
Valentine Smores
Ingredients:
Nutella
Marshmallow Fluff
Graham Crackers
Meltable Chocolate (brown and red or pink): We used Sweet Tooth Fairy Meltables in dark chocolate and red https://www.michaels.com/sweet-tooth-fairy-meltables/10632878.html
Break graham crackers into halves or quarters. Coat one side of the graham cracker with Nutella and a separate one with marshmallow fluff. Put both sides together, place on a tray (consider placing a silicone mat down for easier clean-up), and repeat for as many as you would like.
Melt the chocolate as directed on the packaging.
Flip each Nutella/marshmallow fluff graham cracker in the melted chocolate of your choice (we used dark chocolate) and let harden.
Melt the chocolate of choice as directed on the packaging.
Use either a spoon or a piping bag and tip to drizzle the colored chocolate on top of the hardened chocolate-covered s'mores to make your Valentine S'mores. You can be as quick and careless or as creative and diligent as you want with these. We just let our kiddos have fun decorating them.
Chocolate-Avo-Chia Mousse
Want a healthy treat and yummy way to incorporate avocado and chia seeds into your little's diet? Chocolate-Avo-Chia Mousse may be the way! There are several recipes you can find to try online, such as https://recipes.heart.org/en/recipes/chocolate-avocado-chia-pudding on the American Heart Association website. Below is the recipe our family enjoys:
Ingredients:
1.5 cups Almond Milk (or milk of choice)
¼ cup Cacao Powder
¼ cup Chia Seeds
1 Avocado
1 teaspoon Cinnamon
4 tablespoons of honey
Pinch of salt
Blend all the above ingredients in a blender if you like the consistency of chia seeds or a Nutri-bullet type appliance for a more blended texture. I personally prefer the more blended texture; however, my teen likes the chia seed texture. I prefer to refrigerate this for a couple hours before eating. We have also placed this in the freezer in heart-shaped cupcake molds to serve in a heart shape. We enjoy it with whipped cream (bought or homemade) or So Delicious coconut yogurt garnished with shredded coconut and a cherry.
Valentine's Day Juice Cubes
(Day 8)
Good luck getting your toddlers and children to keep their hands off these. They are so easy to make! They will love them for drinks, for pouring from cup to cup for a pouring activity, and even to place as a heart on a snowman! Building a snowman together is a sensory enriched, body awareness activity for your kiddos (talking about temperatures, textures, and body parts).
Use a silicone heart, flower, or even a lady bug ("love bug") mold.
https://www.michaels.com/mini-heart-silicone-candy-mold-by-celebrate-it/10650009.html
Toddler/Children/Teens
https://www.michaels.com/flowers-silicone-candy-mold-by-celebrate-it/10653480.html
Pour your favorite red or pink juice into them and freeze.
Some of our favorites are: Honest Kids Organic Berry Good Lemonade: https://www.honesttea.com/products/honest-kids/berry-good-lemonade
Wegmans White Grape Raspberry Juice: https://shop.wegmans.com/product/36644/wegmans-100-juice-white-grape-raspberry
Valentine's Day Drink
(Day 9)
This is a quick and easy way to make a fun Valentine's drink.
Ingredients:
Maraschino Cherries
White Sugar of choice
Favorite drink (light colored works best i.e. water, seltzer water, pink lemonade, watered down juices)
Valentine Cubes
Clear child-safe cups
Mix equal parts sugar and maraschino cherry juice. Mix, let sit, and absorb together.
Once cherry sugar mixture is mixed and absorbed well, push the rim of the cups into the mixture to coat.
Pour juice and a juice cube in each cup and serve.
Valentine's Day Craft
(Day 10)
There are so many craft ideas available. Be creative with what you have at home. One example is to reuse an empty heart-shaped chocolate box to make a Conversation Heart Chair decoration.
Valentine's Day Heart-shaped Box
Be as creative as you want with these. You can put your baby's handprint on them, let your toddler paint, color, or put stickers on these, or do them yourself to nurture your creative side.
Basic instructions:
Cardstock, in color of choice, sized appropriately for the box (2 pieces per side) OR paint in the color of your choice.
Letter Stencils or Letter Stickers
Ribbon or Yarn in color of your choice
Either trace the outline of the heart-shaped box onto the paper or paint the box.
Use freehand or a ruler to line up the letters, stencil the letters or place sticker letters on the prepared box (Be Mine, I Love You, etc.)
Measure the ribbon or yarn to fit your chair, to hold the box in the desired position on the chair. Triple that amount (i.e. if 5 inches down then cut a 15-inch piece).
Fold the ribbon or yarn in half.
Hot glue the folded part of the ribbon or yarn to the top center of the box.
Once dry, take both sides of the ribbon and tie onto the chair.
Valentine's Day Dress Up and Dance Party
(Day 11)
Dress up in red, pink, or whatever colors remind you of Valentine's Day and have a dance party.
Baby/toddler songs/videos:
Older Children:
For older children pick positive, uplifting, self-love type songs they love. Select songs that empower them to love themselves, and make them feel as if they can do anything
Pasta Hearts or Heart-Themed Dinner
(Day 12)
Make a dinner full of heart-themed items.
Pasta hearts are awesome! Why? Because honestly, they are quick and easy. You can even use them for a fine motor activity with your toddler to make a pasta heart necklace!
Or place items on heart-shaped tablescape items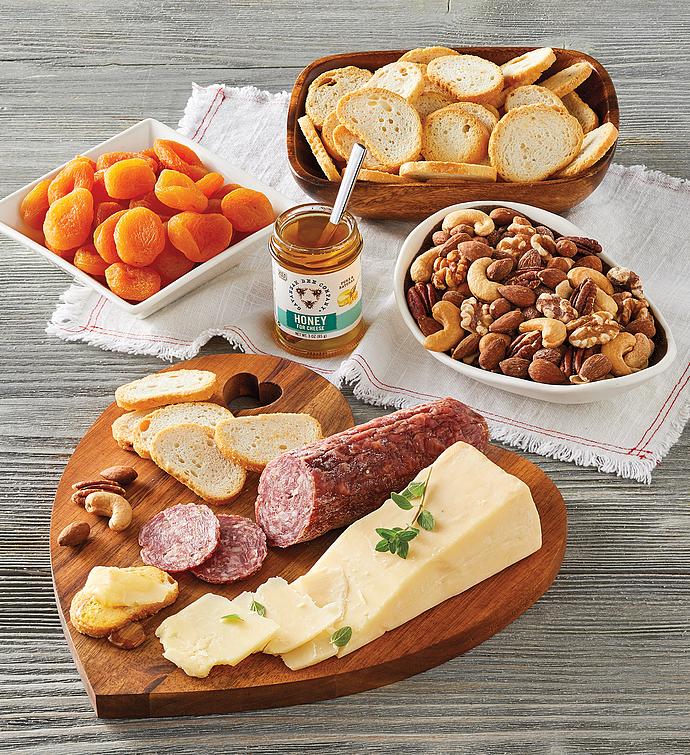 Heart-Shaped Charcuterie and Cheese Tray
Random Act of Kindness
(Day 13)
#OurHearts #AmericanHeartAwarenessMonth
Discuss different ways that you can participate in a random act of kindness. Having a hard time coming up with an idea? It is American Heart Month so maybe donate to the American Heart Association, volunteer on a cardiac floor, send letters out to loved ones who have a history of heart disease, send a meal to a loved one, pay for a meal for a stranger if you are out to eat. There are so free or inexpensive ways to help others.
https://www.nhlbi.nih.gov/health-topics/education-and-awareness/heart-month
#OurHearts
https://www.heart.org/en/around-the-aha/february-is-american-heart-month
https://www.cdc.gov/heartdisease/american_heart_month.htm
Heart Healthy Family Workout
(Day 14)
Since it is Heart Awareness Month, consider talking about heart health based on your child's age. Some quick examples:
Baby: Take a walk/safely workout with your baby in your presence (i.e. in a stroller or baby-wearing device). Your baby loves and needs you. They want you to be a healthy you so you can be there for them for many years.
Toddlers: Color a heart, talk basics about what the heart does, and take a walk or do toddler yoga/exercise together.
Coloring pages:
https://coloringhome.com/free-heart-coloring-pages-for-kids
https://www.coloringall.com/coloring-pages/curious-george/curious-george-having-a-heart-to-heart/
Yoga:
https://www.youtube.com/user/CosmicKidsYoga
Older Children:
Coloring pages:
Send Positive Valentine's Day Memoji to a Family Group Text
If you have the ability to create a me-moji (an animated version of yourself as an emoji), have each family member create a me-emoji. Use the record and send me-moji feature and send each family member a personalized Valentine message (i.e. one thing you love about them). At Christmas we sent each other a recording of a personalized silly version of our favorite Christmas carol personalized
As we bring this blog to a close, there is a verse and a quote about love that so beautifully resonates within the heart of parenting. 1 Corinthians 13:4 "Love is patient, love is kind." And Brene Brown's quote: "Love is not something we give or get; it is something that we nurture and grow, a connection that can only be cultivated by two people when it exists within each one of them – we can only love others as much as we love ourselves."
Love,
Your Nurture Notetakers